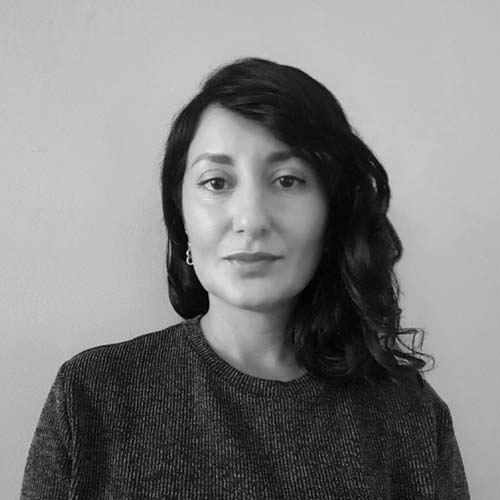 Aseman Sabet holds a master's degree in art history from UQAM.
Over the past twelve years, she has worked in the visual arts field as a curator, author, project manager, lecturer (Université Laval/UQAM), editor, and researcher, as well as an art specialist for radio and television (Ici Radio-Canada Première, ICI Télé/ARTV).
Specialized in interdisciplinary issues, she has multiplied collaborations with contemporary art publications, notably for the exhibition catalogue Patrick Coutu: Le Jardin du sculpteur (Musée national des beaux-arts du Québec, 2016), and through her essays, for instance in the books Notions esthétiques: la perception sensible organisée (L'Harmattan, 2015), #callresponse (Grunt Gallery, 2018) and Entends-tu ce que je vois? (Dazibao, 2019).
Aseman Sabet also worked as a visual arts specialist for the Ministère de la Culture et des Communications du Québec from 2019 to 2022, a period through which she also sat on the editorial board of ESPACE magazine and on Molior's artistic committee.
She currently works as the Director of development for the Société des musées du Québec.